Other Tools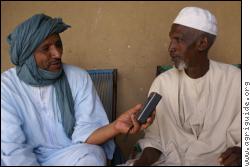 In Senegal and Mali, the E-TIC project aims at providing training tools and elements so that small farmers, stockbreeders and fishermen may sell their produce better.
Through its network of local professionals and volunteers, ICVolunteers carried out a field study in six regions in the two countries. In Senegal, this involved the localities of Guédé-Chantier (Saint-Louis Region), Meckhé (Thiès Region), Mbam (Fatick Region) and in Mali, the Timbuktu Region, Ségou Region and Sikasso Region. In each case, particular focus was given to the role of information and communication technologies for agriculture, stock-breeding and fishing.
We wanted to know what kinds of issues were identified by farmers, herders and fishermen and what the role of technology has been and can be to address these issues, (e.g. getting comparative market prices, information about sanitation, organic farming practices, health issues for plans, animal and humans, etc.).
The information was collected by means of a standardized questionnaire distributed to local connectors (governmental representatives, community leaders, volunteers deployed in the six above-mentioned localities, journalists…). A second questionnaire was specifically developed for journalists. The questions asked related to the main activities of the respondents; products and markets; the ownership of cultivated lands; products used on the lands; the selling of produce; information and communication.
We have structured our work in four points: 1) survey with the help of questionnaires, 2) (audio and/or filmed) interviews, as well as exchanges by interest groups, 3) a study in order to place our work in a methodological and theoretical framework, 4) organization of meetings with interest groups.
With regard to the survey carried out by means of a standardized questionnaire, responses were obtained from 132 farmers, stockbreeders and fishermen. As far as the main activity of the respondents is concerned, 46.5% are involved in agriculture, 42.6% are involved in stock-breeding and 14% are involved in (river) fishing.
Questionnaire